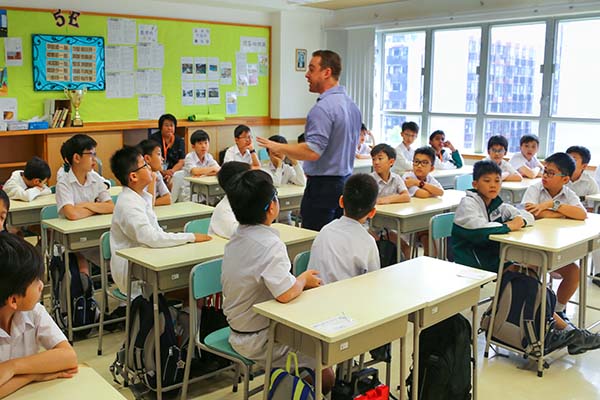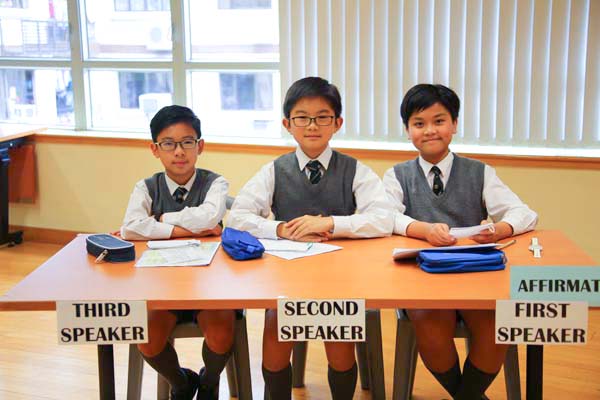 Our English curriculum is designed not only to help our students develop their essential language skills, but to prepare them for the 21st Century and inspire them to become independent, lifelong language learners.
We have established our School-based Intensive Reading Curriculum, as well as Home Reading Programme to upgrade our students' language competence and to promote healthy reading habits. We believe that students learn English best with a well-structured curriculum, in authentic contexts and through exposure to a wide range of text types.
To instil our P.1 boys with love for language learning, and to develop our P.6 boys' appreciation of language arts, we have developed an English Literature Programme for these two levels. We hope to ensure a quality transition between different key stages of English learning.
Our Writing Curriculum is specially designed to cover a wide variety of text types across all levels. We also encourage free and creative expression of ideas through Free Writing Activities.
To bring language learning to the next level, different electronic platforms and applications are incorporated into our regular learning and teaching activities. We offer a lot of exposure and learning opportunities both inside and outside classrooms. There are enhancement programmes for our gifted students, our Speech Team, Drama Team and Debating Team. Our boys are confident speakers of English.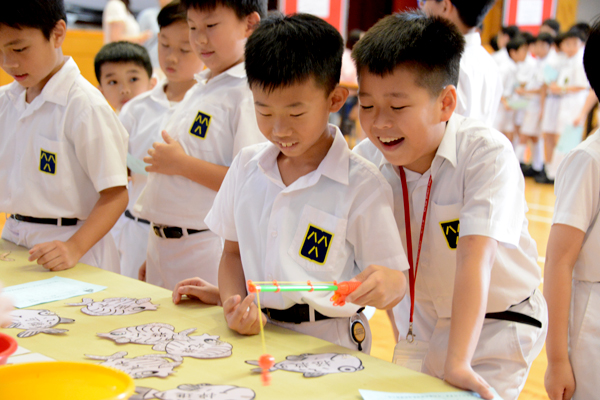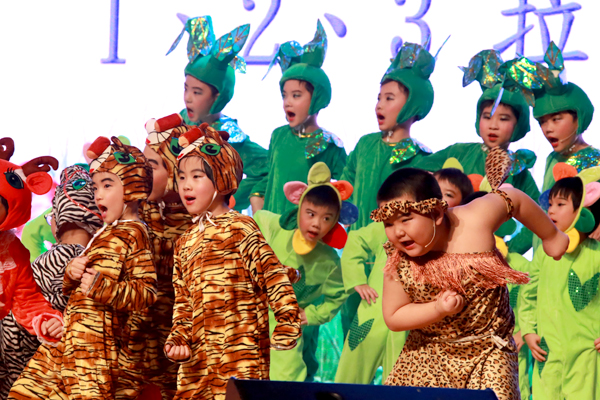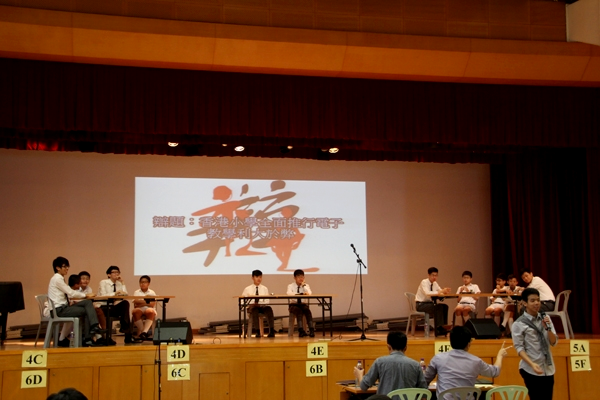 本校中國語文科以粵語作為教學語言,課程的目標是提升學生運用語言的能力,為學生奠定紮實的語文根基,同時希望透過多元化的學習經歷,增加語文學習的深度與廣度,建立學生的自信心,培養高階思維的能力,並掌握終身學習的技能。

本校積極優化校本單元課程,為初小學生擬定有系統而全面的學習教材。此外,本校與直屬學校喇沙書院保持緊密的聯繫,透過不定期的同儕觀課及科務會議,共同訂定校本升中銜接課程內容,為高小學生作好升中的準備。

本校課程內容以閱讀、寫作、聆聽及說話四大範疇為核心,帶動思維、自學能力的訓練,力求學生在讀寫聽說方面能達至準確、流暢、得體的水平,應付學習及日常生活上傳意及溝通的需要,並協助學生主動建構知識及建立正面的價值觀。

課堂學習方面,適時滲入探究學習及合作學習元素,讓學生在學習語文的同時,培養協作、解決問題及運用資訊科技等能力。此外,本校的中國語文教育著重應用與實踐,鼓勵學生學以致用,積極參與校內與校外之語文活動及比賽,例如校際朗誦比賽、故事演講比賽、語文同樂日、書法比賽及綜藝匯演等,積累及豐富學習經歷,全面提升運用語言的能力。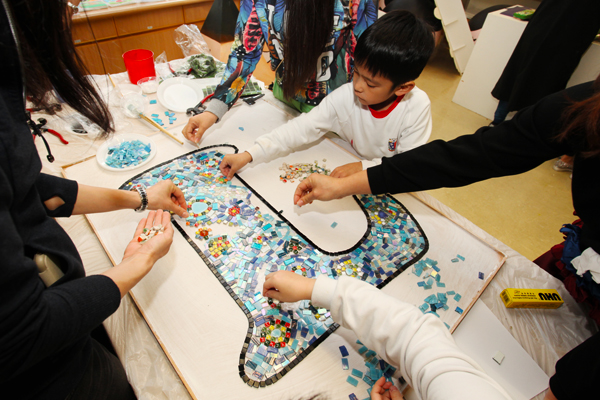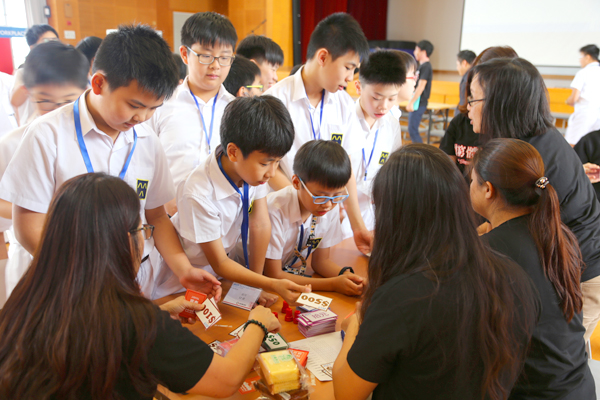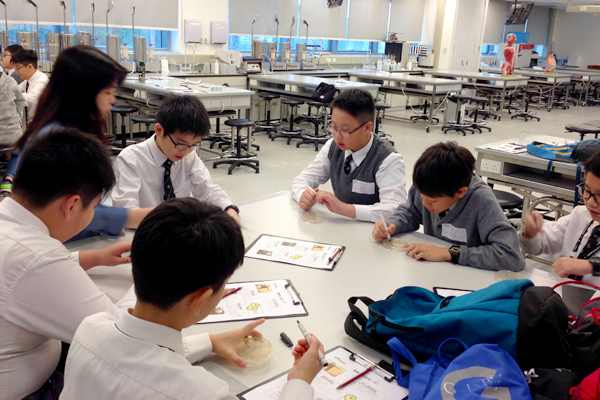 Our School promotes the policy of "Bi-literacy and Tri-lingualism" based on the EDB primary school curriculum. A wide variety of effective teaching and learning strategies are adopted to cater for students' needs and interests. The adoption of these strategies provides students with an all-round and well-balanced education. It promotes positive learning values and attitudes, nurturing their intellectual, physical and spiritual development. During learning activities, students' creativity, thinking and social skills are developed. Generic skills are also incorporated into each subject's curriculum, cross-curricular programmes and extra-curricular activities.
In order to cater for learner diversity, enrichment courses are provided for students on a wide range of interesting topics. Chinese, English and Mathematics support programmes are arranged to bridge any learning gap. We also offer gifted programmes to students in the talent pool.
Through Service Learning, Religious Activities, Personal Growth Education and Moral and Civic Education Programmes, the School strives to develop students' positive values and attitude, and more importantly, a will to serve others. With an emphasis on "zero bullying", the School has established a caring and supportive campus. Students demonstrate the "Lasallian Spirit" with their love for God, themselves and others, observing the school motto "Fides et Opera", which stands for "Faith and Good Works".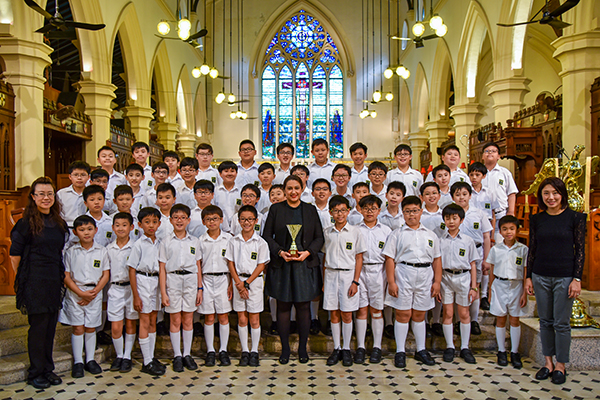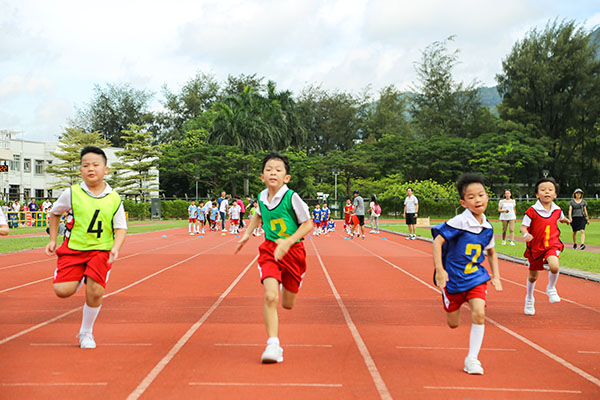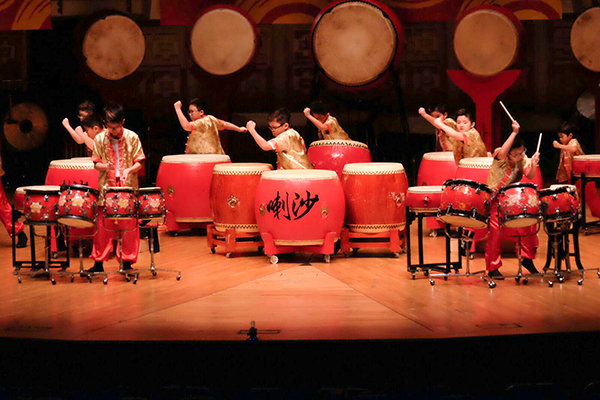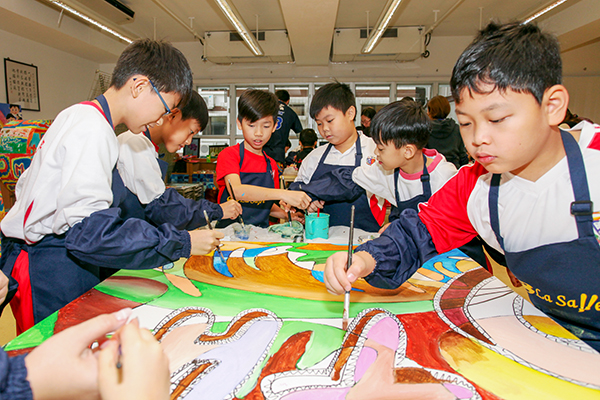 The school provides diversified learning experiences to cultivate our students' potential and develop their multiple intelligences. We are dedicated to delivering whole person education that fosters the spiritual, intellectual, social and physical development of our students.

Our students' learning is enriched and extended through various challenging learning opportunities beyond the formal classroom setting. Students have opportunities to participate in talks, inter-class competitions and extra-curricular activities. The school also arranges visits, cross-cultural activities, picnics, outings and camping activities so as to help students grow into mature and confident young gentlemen.
The school offers plenty of opportunities to experience a wide range of fun and challenging learning experiences, such as assorted sporting events, speech competitions, music programmes, Visual Arts classes and academic activities.
The school also works very hard to foster students' moral and ethical values. We hope to develop our students' understanding of Chinese culture and Christian values through numerous religious and cultural activities throughout the year.
Through close collaboration with the Parent-Teacher Association, the school provides students with all-round learning experiences conducive to their whole-person development. The diverse range of extra-curricular activities conducted after school and on Saturdays, along with the "One Student One Sport One Art" programme enable our students to gain learning experiences in different domains.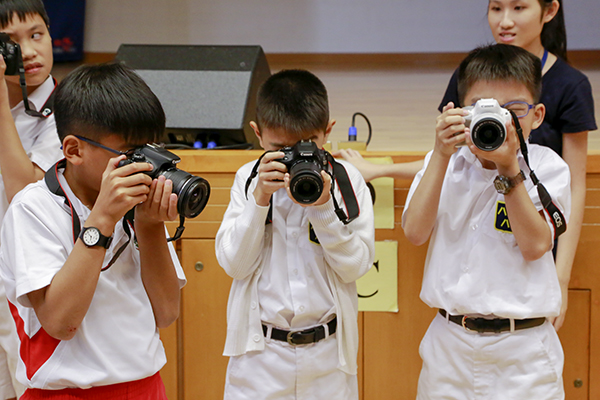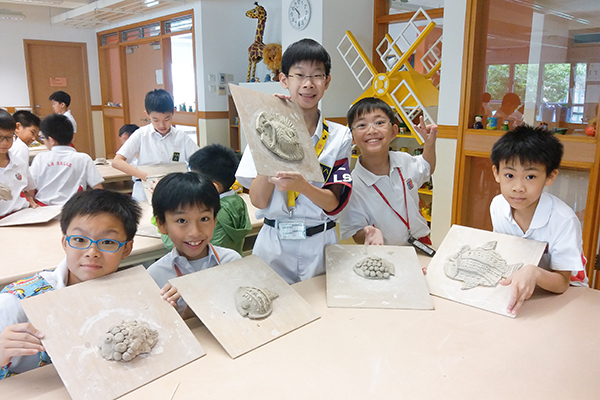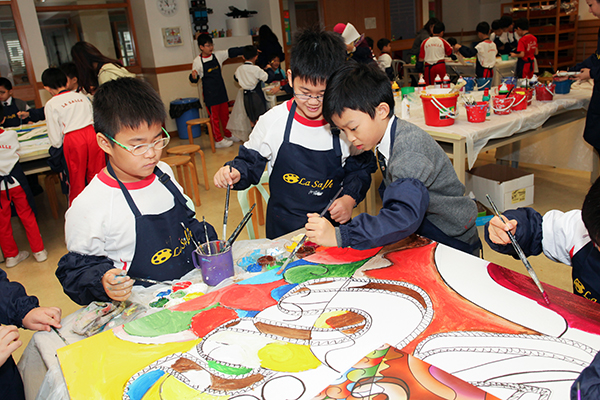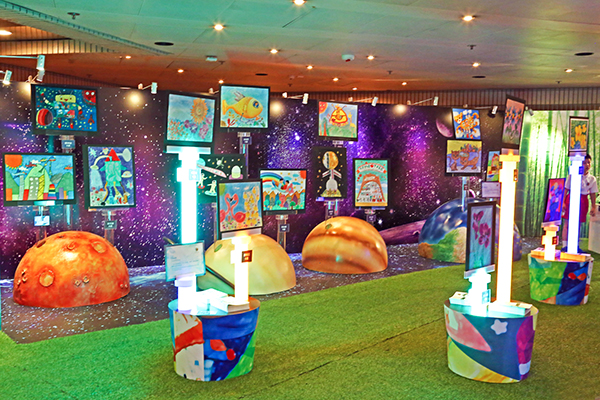 Our Visual Arts Curriculum takes reference from the "Visual Arts Curriculum Guide (Primary 1 – Secondary 3)" prepared by the Curriculum Development Council, Hong Kong. Learning activities are designed in accordance with the Four Key Learning Targets, i.e. developing creativity and imagination, developing skills and processes, cultivating critical responses and understanding art in context.
There are four goals central to the Visual Arts curriculum. First is to develop knowledge in arts and to explore skills in a large variety of media through progressively designed learning activities. Second is to engage in art-making and experience the excitement and satisfaction of creativity and imagination. Third is to nurture aesthetic sense, critical thinking and effective communication through the interaction with a rich array of artworks. Fourth is to promote an art loving lifestyle and cultivate a life-long interest in arts.
To achieve these goals the flipped classroom approach has been adopted in order to facilitate self-directed learning. Students are encouraged to watch designated videos at home and to practise new ideas and skills in the classroom. A school-based curriculum linking photography with civic education has been developed for students of all levels. It takes a thematic approach in which students are stimulated to express their views of social issues that concern them most through the camera lens. To empower students to be ready for the 21st century, digital art is added into the curriculum.
Learning through reading is another strategy adopted. Students are encouraged to reflect on their reading of arts-related publications. To develop an arts-loving lifestyle, students are encouraged to share experiences of visiting galleries or museums during the summer holidays. There are attempts to enhance students' skills and interest in pottery through the opportunity to learn from artists. In addition to regular lessons, extra-curricular courses are also organised for those who want to be adept at hand-made pottery.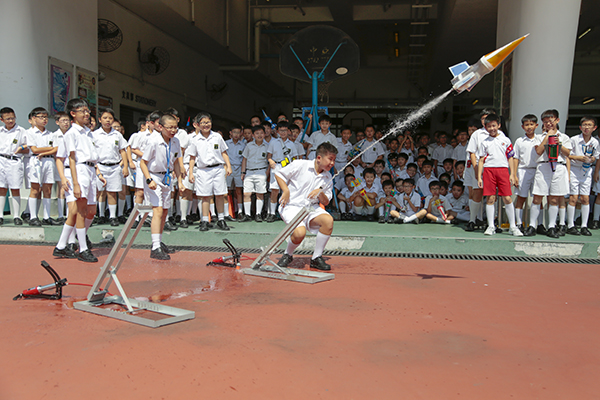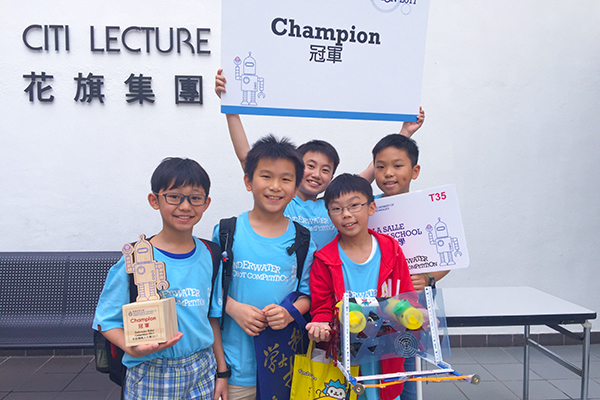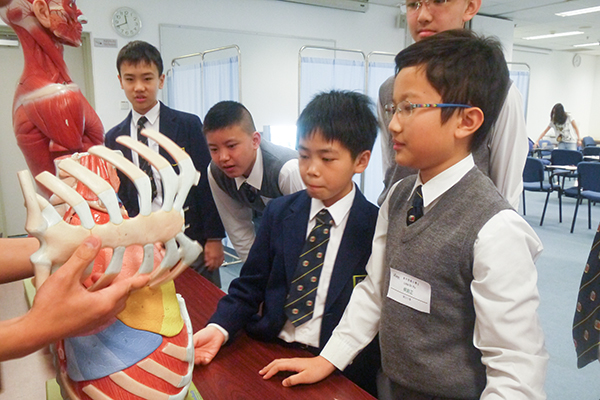 Scientific and technological knowledge, exploring and thinking skills are at the heart of the Science curriculum. We try to develop students' self-learning skills, to enable them to enquire about issues related to science and technology and their daily lives, and to cultivate their interests in such areas. This promotes an attitude that will enable them to see the need for keeping abreast of changes and adapting to new technology.
The Science curriculum also places importance on students developing positive values and attitudes that will enable them to make sensible judgments in an ever-changing society. Students need to be more than just scientifically and technologically capable. They need to be able to apply that knowledge in positive and sensible ways.
Through inquiry-based learning, students are encouraged to learn about science in the classroom with hands-on experiments. The science curriculum is not just limited to the classroom environment. To promote their interest in science, regular visits are arranged so students can see science in action. To promote cooperative learning, students are also exposed to project learning. To further explore their scientific interests, students are fully supported by the School to join various science competitions or gifted programmes. We would like to offer opportunities to showcase the importance of science in our 21st-century lives.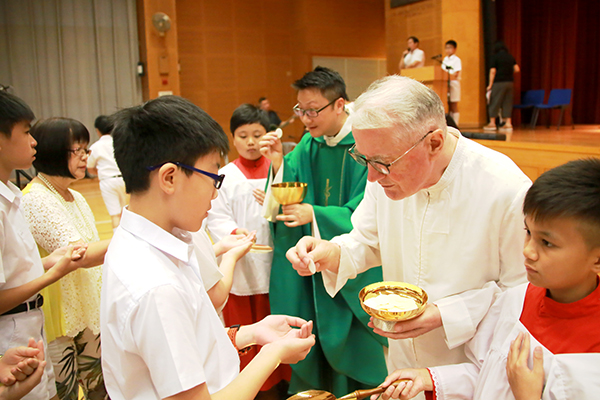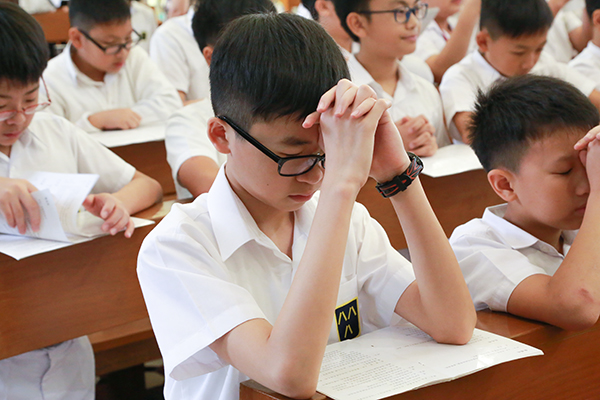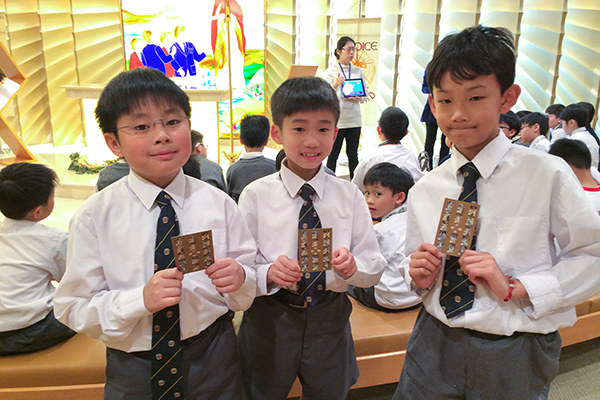 The core values of Catholic education are taken from the teachings of Jesus Christ, emphasising the search for truth, upholding justice and practising love. It takes as its teaching model the Catholic Church, while carrying on the traditions of St. John Baptist de La Salle's educational philosophy. We aim at spreading the Gospel and to lead students to live in the spirit of love.
In addition to textbooks, the Religious Knowledge classes at all levels are based on the liturgical calendar. Through worksheets, classroom activities and multimedia teaching, students are introduced to Marian Devotions, Advent, Lent and learn about a variety of Saints. Teachers also lead the students to the chapel to recite the Rosary and Stations of the Cross.
The school's religious activities are rich and diverse. We organise the School Opening and End of Term Masses, Christmas and Easter Liturgies every year. Every day, during morning assembly, lunch and before school dismissal, students and teachers pray together. Students are given opportunities to lead these prayers. During recesses, activities are conducted in the school chapel. During lunch, students listen to hymns or bible stories, and in this way they may come close to God in a relaxed atmosphere.
The school also runs a religious group during extra-curricular activities period. We arrange for students who have taken the First Communion to have confession at school during Lent.
The school is also in close contact with the Catholic Diocese of Hong Kong. In addition to participating in Lent donations, we also participate in fundraising for Caritas and other charitable organisations. Every year each class designs its own classroom bulletin board according to the pastoral focus of the Church.
Our hope is that through the guidance of the Holy Spirit, education can be used by God to nurture the healthy development of children.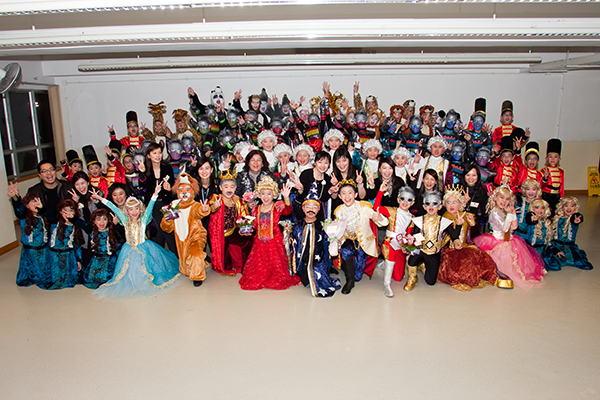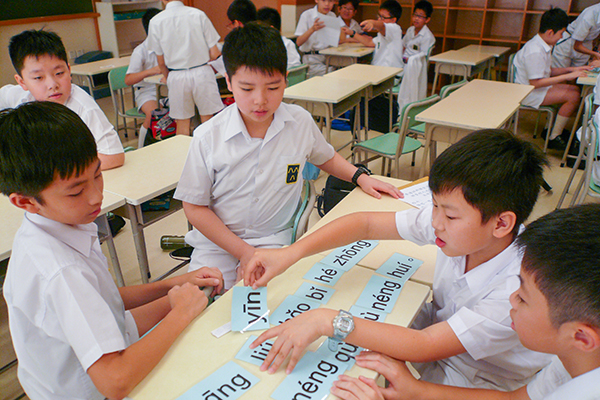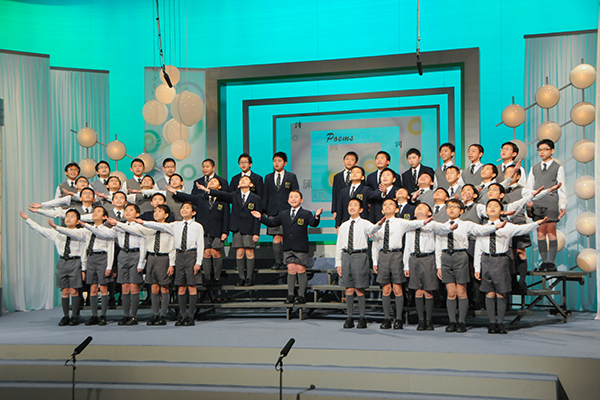 The objectives of the Putonghua curriculum are to cultivate pupils' listening, oral, transliteration and self-learning skills, to enhance the linguistic knowledge of Putonghua and Chinese culture, to cultivate interest in learning and to nurture good learning attitudes and habits.
We have developed our school-based 'Putonghua initial consonants, vowels, tones and syllables' teaching materials and demonstration videos for pupils to learn the language more effectively. These Putonghua pinyin videos and other learning platforms are placed online for self-directed learning.
Apart from regular Putonghua lessons, extra-curricular activities are held every Friday for Primary one students. There is also an annual Putonghua Day during which our boys are fully engaged in classroom activities, booth games, storytelling sessions, riddles, songs, speech sharings and drama performances, all conducted in Putonghua.
Putonghua Musicals are held in our biannual School Concerts to encourage students to use the language in interesting ways. To further upgrade our students' Putonghua proficiency, they are encouraged to participate in Putonghua assembly sharings, Speech Festivals, storytelling competitions and exchange programmes in China.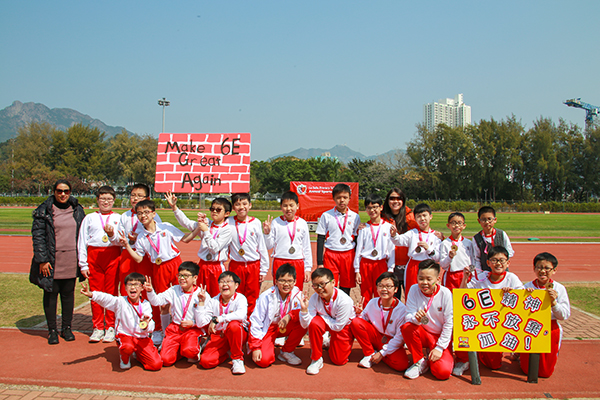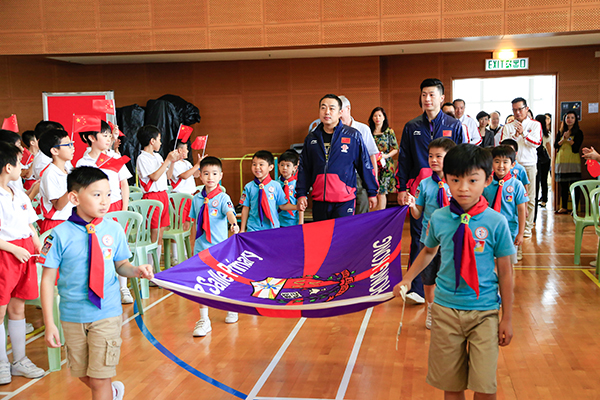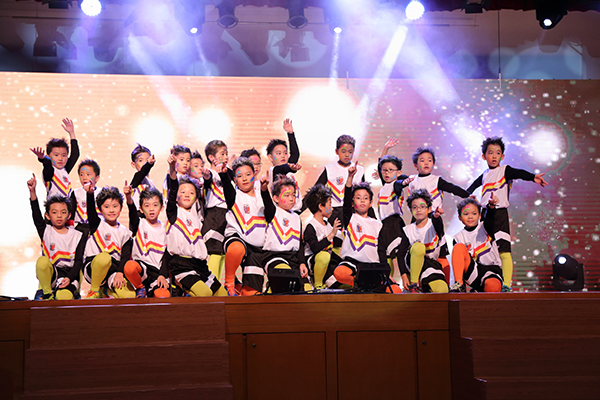 In La Salle, we help our students develop an active and healthy lifestyle through taking part in physical activities and sports events. Our students are good sportsmen, physically healthy and all round.
To provide a broad and balanced learning experience, our Physical Education programme is sports centred. The specific skills and practical knowledge of each sport is used as the core for enhancing physical fitness. Important concepts of health and fitness, safety measures and relevant sports values and sportsmanship are included in our curriculum.
Our Physical Education activities are designed to meet the needs, interests, abilities and learning styles of students, taking into account the school culture and making effective use of the school's extensive facilities. Such activities include football, basketball, volleyball, handball, athletics, gymnastics, badminton, table tennis, swimming, fencing, rope skipping, triathlon, squash and tennis. A new school-based rugby curriculum for P.5 boys has been implemented.
We encourage students to extend their studies beyond the classroom. We organise sports activities such as competitions, training courses and performances. We conduct regular training sessions for all school teams. Professional athletes in Hong Kong and from overseas, and even Olympic medalists are invited to our School for sharing sessions with our students.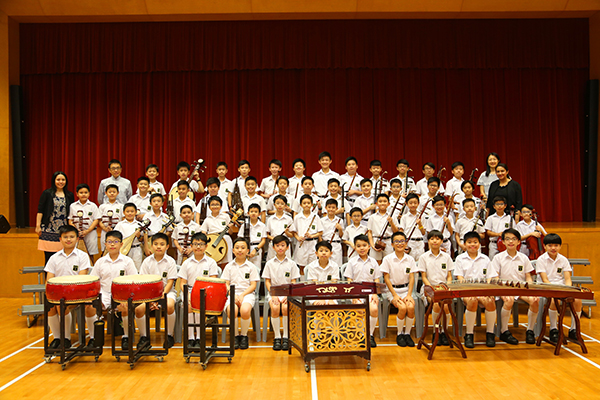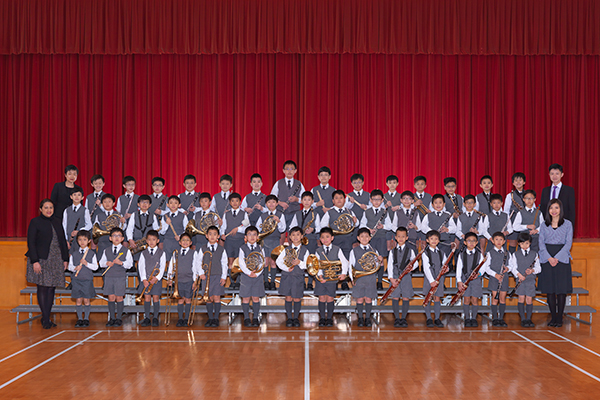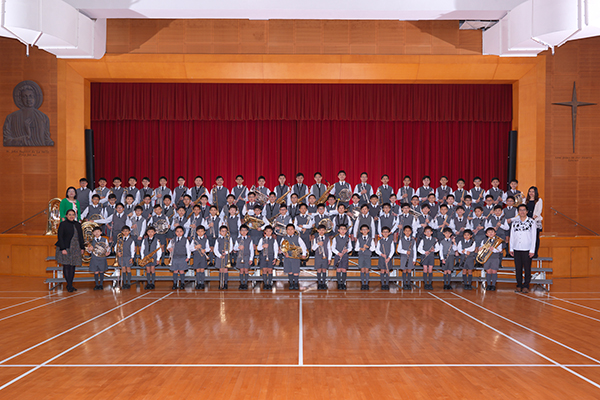 La Salle boys' love of sports is rivalled only by their love of music, always striving to showcase their musical talents at every opportunity. Their interests in music is well cultivated with numerous school music activities.
Strongly supported by the School, the policy "One Pupil One Instrument" has been implemented for several years. Western and Chinese instrumental classes are arranged after school by the PTA Music Club. Through learning musical instruments, boys experience first-hand a rich variety of music. They learn invaluable musical skills as well as patience, perseverance and discipline.
Joining school music teams, like Orchestra, Chinese Orchestra, Chinese Drum Team, Symphonic Band or Choir, enhances their concentration, cooperation and team spirit. The music teams also participate in public performances as well as various competitions, gaining recognition and highly-praised awards. Lunch time concerts, annual concerts and musical marathons also provide opportunities for students to perform.
Overseas music tours allow students to gain experience of sharing and to tap into the world of music exchange. Broadway musicals are staged every two years with hundreds of students participating, which have become the highlight of the year. Musical buddies are emerging under the musical nourishment in the school. Students are actively engaged in playing music harmoniously with passion and unity.
Mathematics Adventures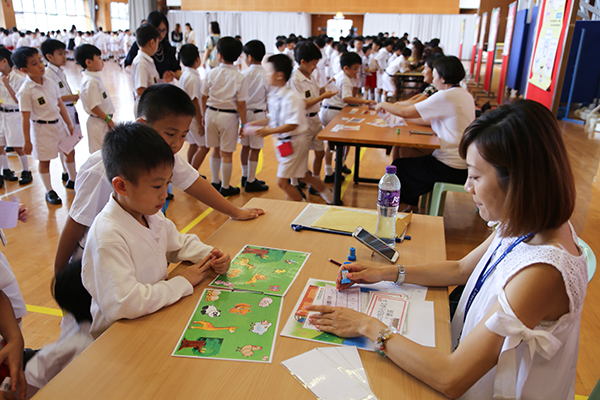 Mathematics Booth Games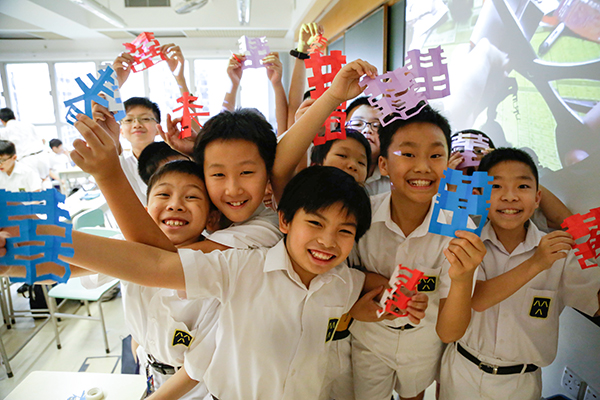 Mathematics Day
Our Mathematics curriculum aims at developing our students' knowledge, skills and attitudes.
Our students are confident in the fundamental mathematical concepts of Number, Shape and Space, Measure, Data Handling and Algebra, which serve as the base for all their mathematical endeavours.
Just as important are the skills necessary to apply that knowledge. We train our students in the computation of fractions, decimals and percentages, as well as strategies for estimation. Through exploring, students develop the ability to analyze, reason, make judgments and solve problems.
Nurturing attitudes is crucial in developing all around students. We aim to promote an interest in learning Mathematics so that students can be confident in applying mathematical skills. We hope that Mathematics enables them to appreciate the patterns and structures in the world around them. Not only do we hope to foster independent thinkers, but also mathematicians who are willing to respect and collaborate with their peers.
We conduct regular activities such as Mathematics Adventures, Booth Games and Mathematics Days. School-based Mathematics enrichment materials have been developed across all levels to upgrade mathematical proficiency. IT and online platforms have been integrated into the classroom teaching. Our Mathematics Team offers structured enhancement programmes for our gifted mathematicians.
Our students love learning and are able to generalise the use of mathematics in daily life.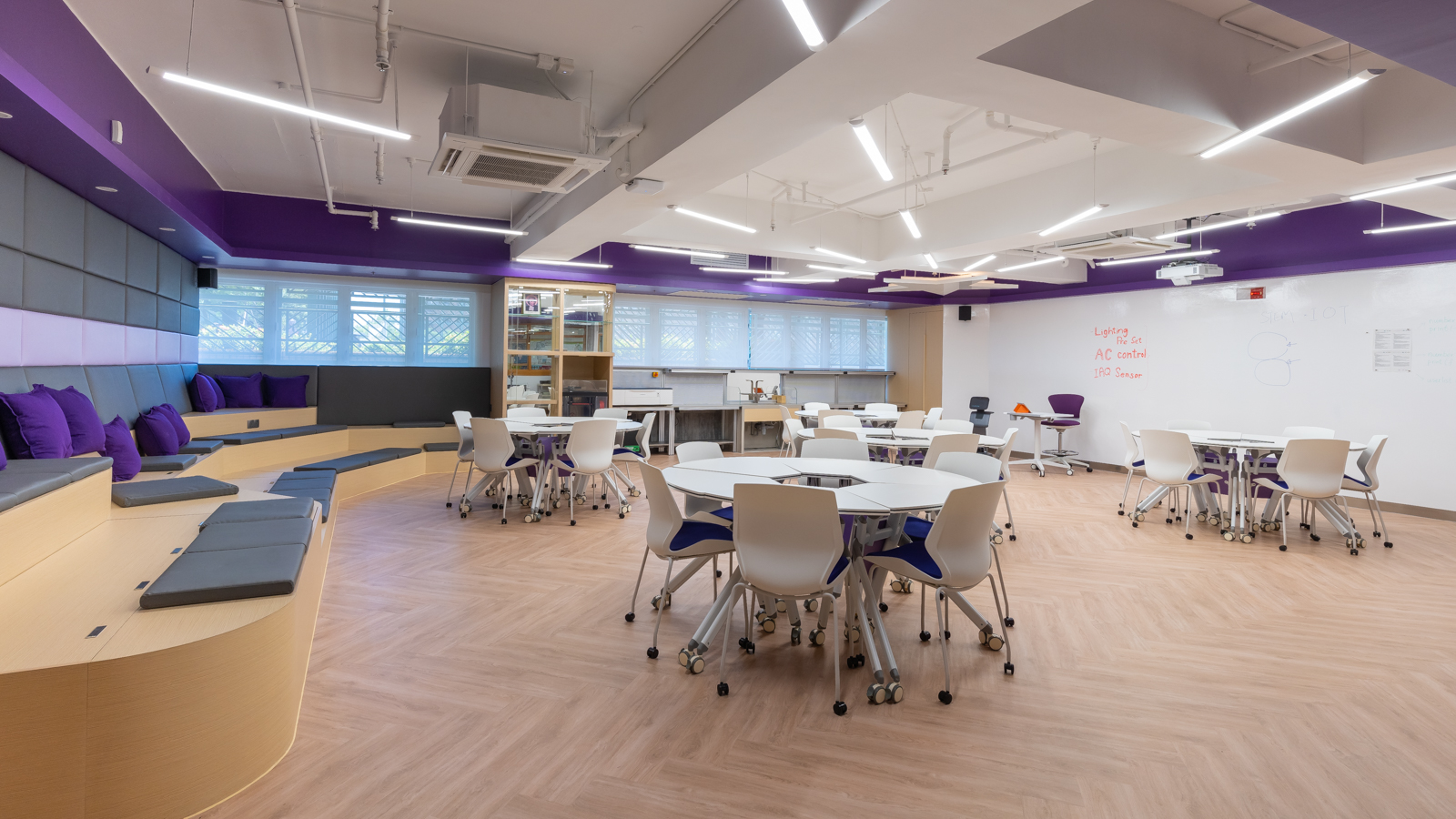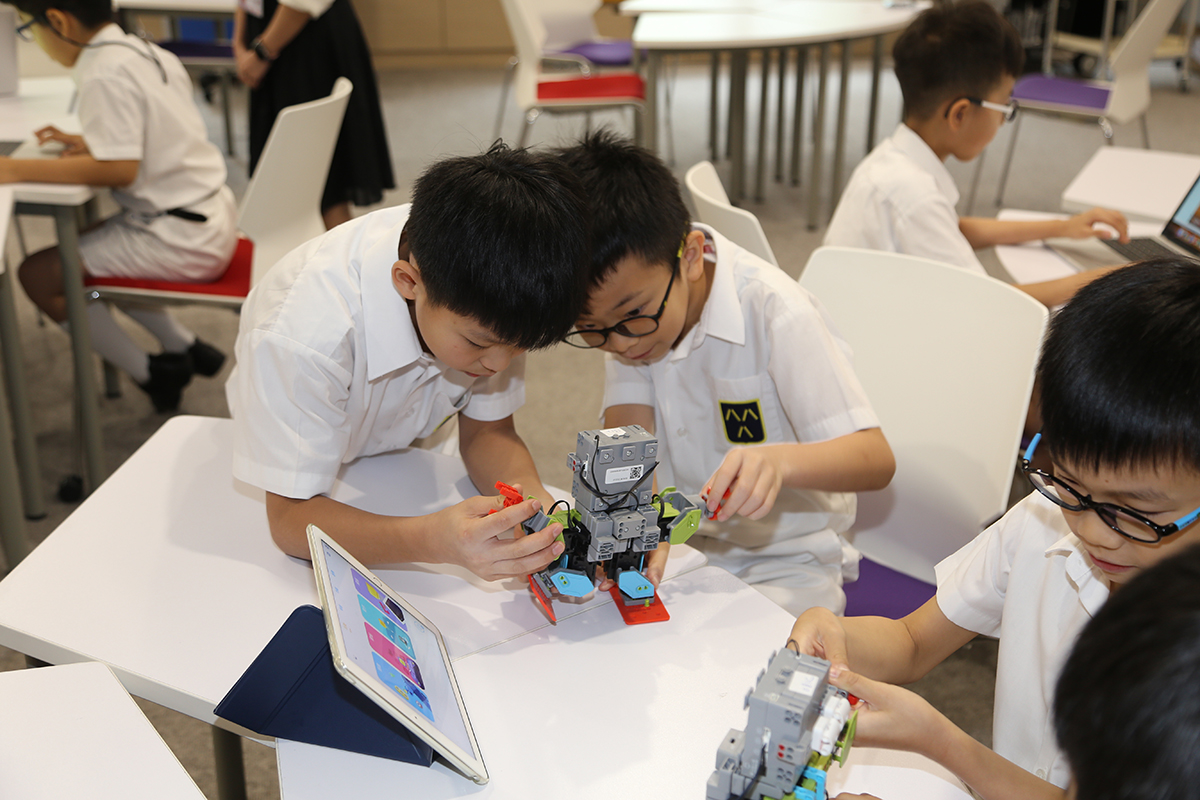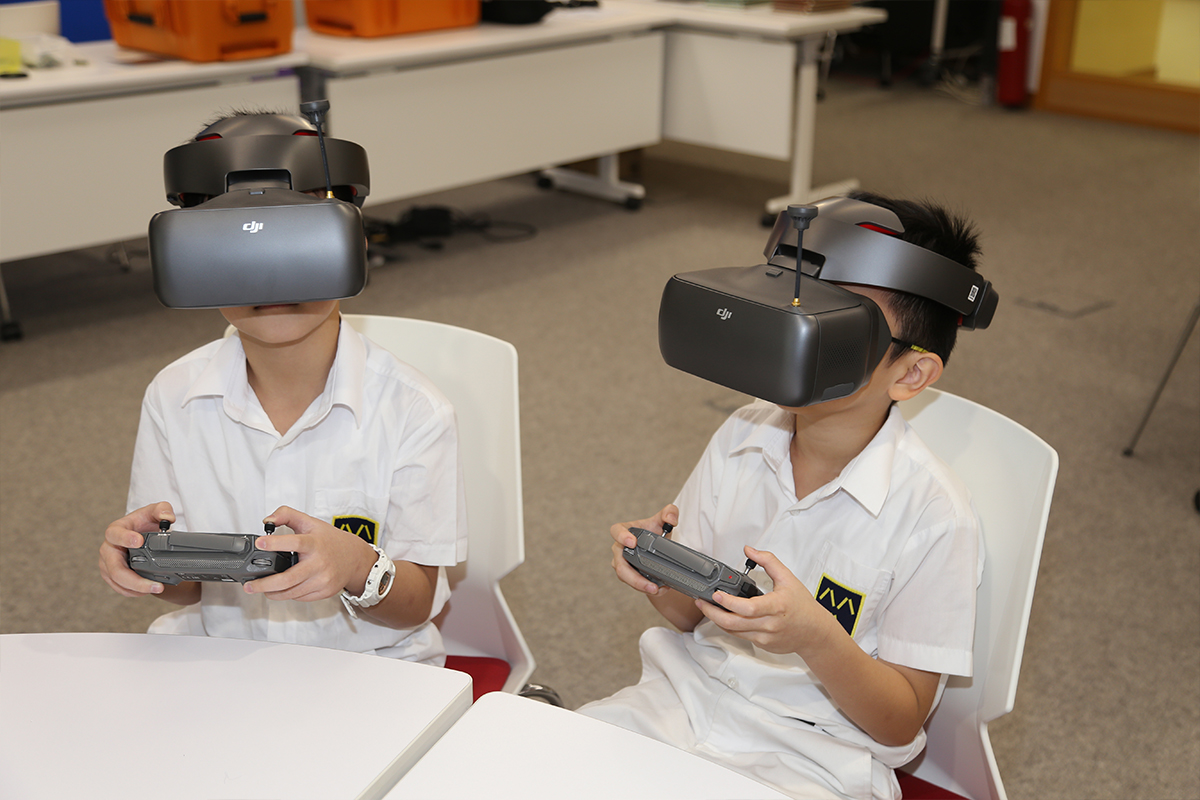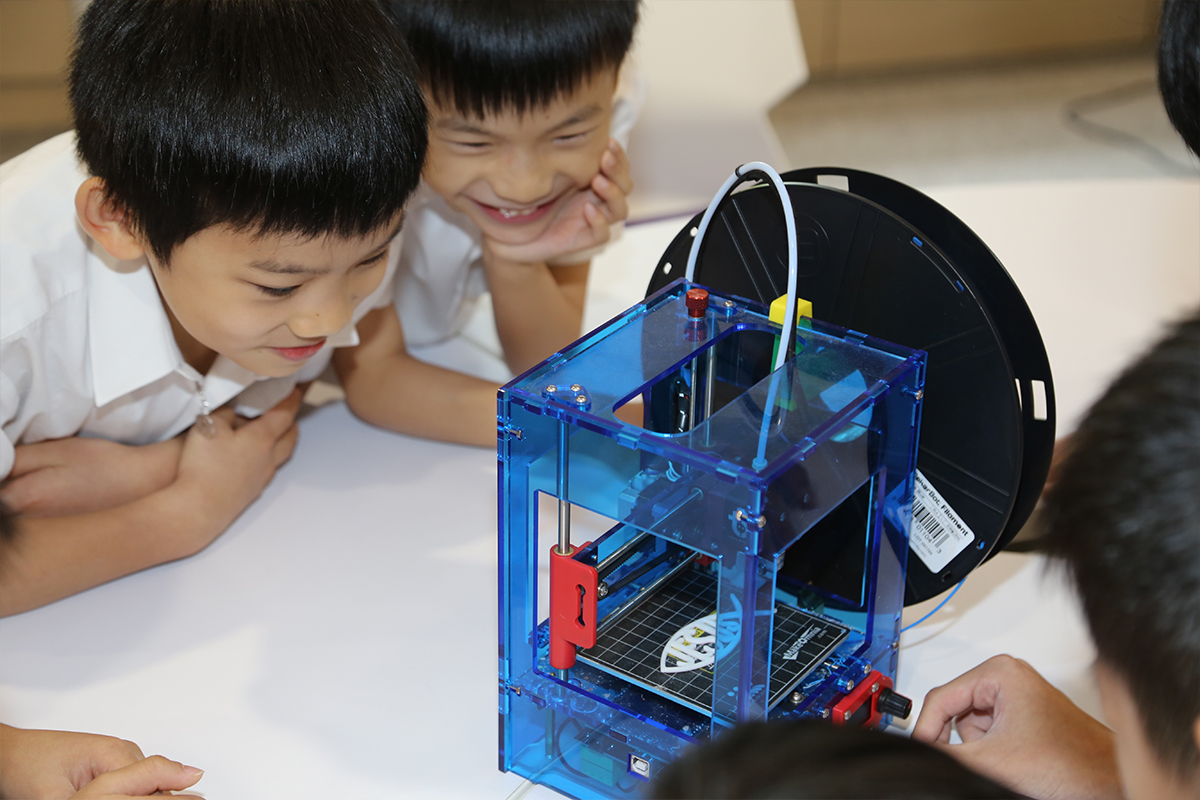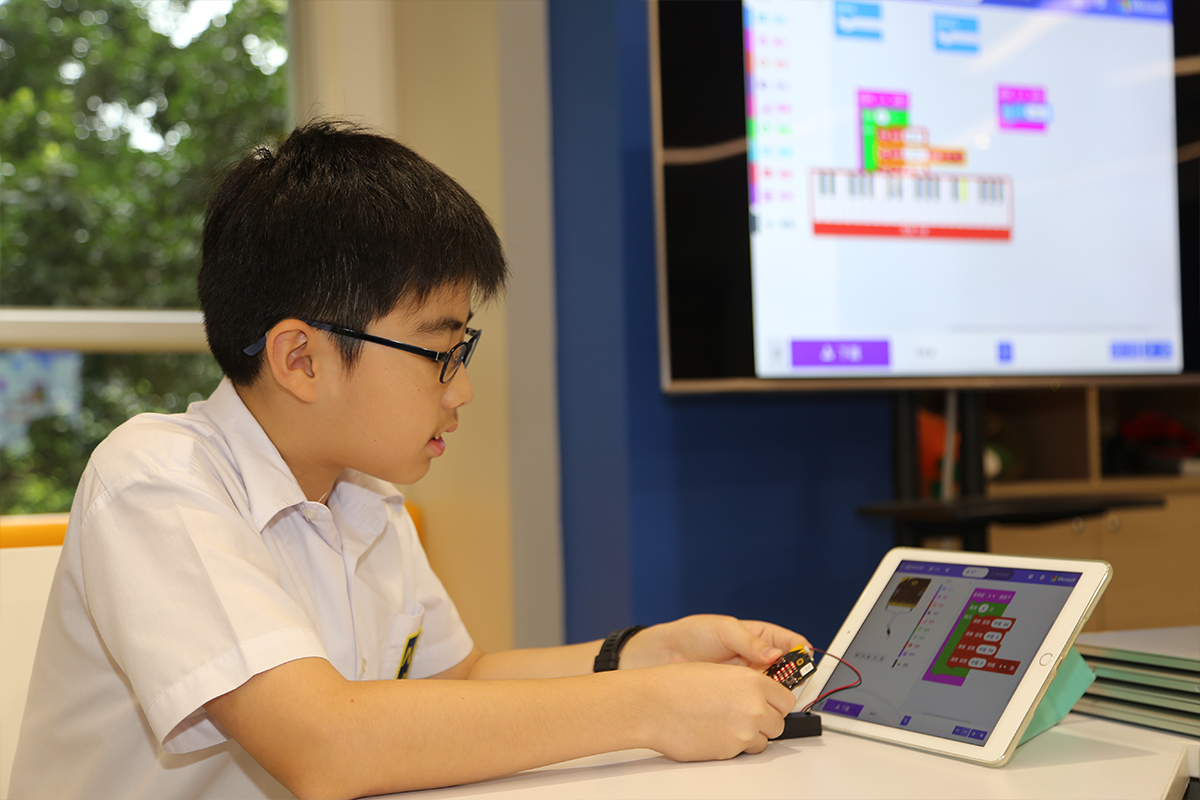 The Digital Studies curriculum aims at developing an understanding of the development of IT and the digital world in relation to students' daily lives. It also aims to enhance students' high order thinking skills, as well as abilities to seek, evaluate, organise, present and use information.
Students are expected to be able to apply IT in their learning and in addressing different issues in their daily lives. The skills they acquire are able to facilitate cooperative learning and lifelong learning.
Mastering computer knowledge and IT skills is not the only objective for the curriculum. In order to enhance self-directed learning, collaboration, problem-solving, creative thinking and computational thinking competency, we have developed a school-based coding curriculum, as well as an information literacy teaching kit.
To fully develop the potential of all students, IT classes are organised for all students in the form of extra-curricular activities. There are enrichment courses for our gifted students and our IT School Teams. We provide a lot of opportunities and train them to be IT helpers and IT experts.
We hope to nurture our students to become competent and ethical users of IT.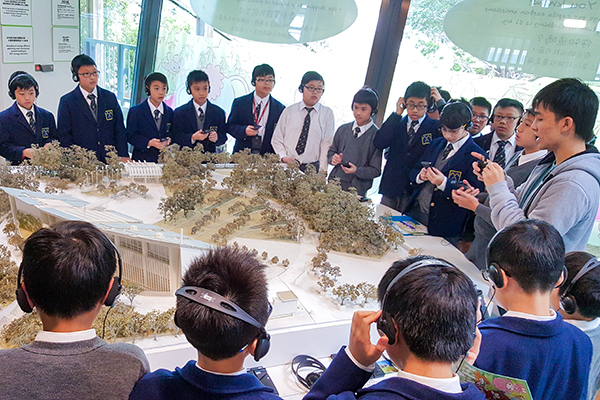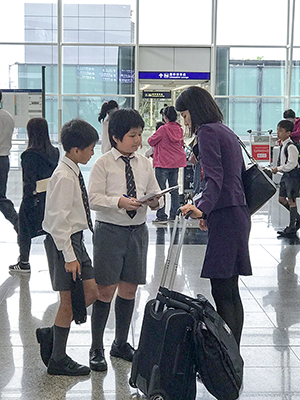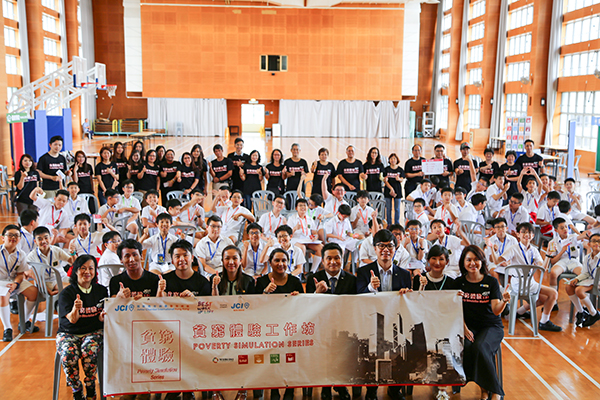 The General Studies curriculum enables students to gain a better understanding of themselves, their families, society and the world around them.
Generic skills such as analytical skills, creativity and problem solving skills are incorporated in the curriculum. We promote inquiry based learning in regular General Studies lessons through questioning, supporting, exploring and discovering. News reading strategies are taught across all levels.
Project Learning is an integral part of the curriculum. Through participating in group work, students learn how to collaborate with others, collect first hand information, explore new concepts, accomplish a task and share findings with their peers.
Our life-wide learning activities include student workshops, flag selling days, services for the needy, poverty simulation, visits to community centres and homes for the elderly. Outdoor learning programmes and visits to different organisations are also organised regularly for all classes. The General Studies Club provides enhancement programmes for gifted boys.
We train our students to build positive characters, to lead a healthy lifestyle, to be confident and responsible citizens, and to be aware of global issues.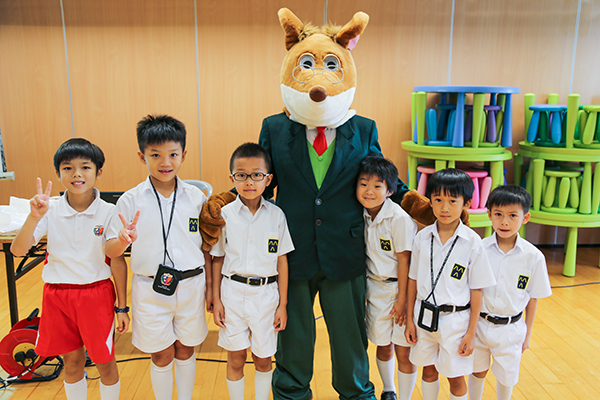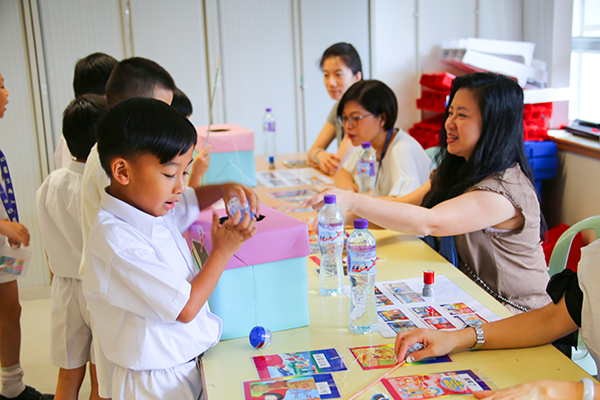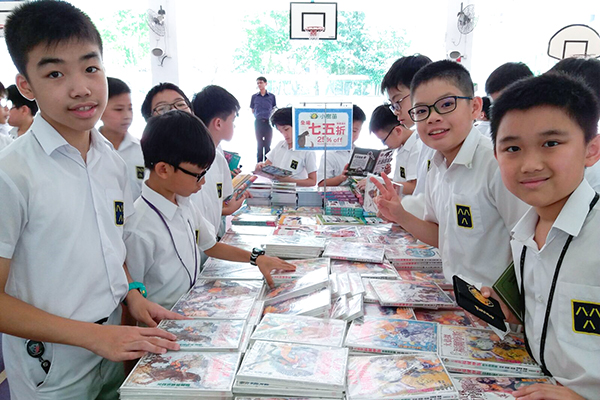 Our School has always been committed to promoting a reading culture. We enable our students to develop a love for reading, and ultimately, become lifelong readers.
Fortunately, most of the students are already voracious readers. This is an invaluable tool which we harness to its fullest in developing students' habits of reading to learn. Students are encouraged to read during weekly library lessons, through which some essential library skills are taught.
Our story books, set books, library collection, magazines, newspapers and online reading materials are updated and renewed constantly. Students are exposed to a wide variety of text types during their library period, the extra-curricular activities session, as well as the opening hours of the School Library and Reading Corner.
Regular reading activities include reading award schemes, book sharings by students or teachers, story reading by parents and book exhibitions. There are also exciting annual events such as Book Fairs, Heifer's Read to Feed Activities and World Book Day Programmes. We work hand in hand with parents to sustain a positive reading culture both at school and at home.
Library Opening Hours:
Summer Timetable: 7:30a.m. - 2:40p.m.
Winter Timetable: 7:30a.m. - 4:15p.m.
Exam/Test Period: 7:30a.m. - 12:30p.m.